I was given the opportunity to play in the Canadian Paraplegic Association annual golf tournament at RiverBend Golf and Recreation Area course on Friday July 15. The annual tournament was dedicated and rebranded this year as the Marlin Styner Memorial Golf Classic.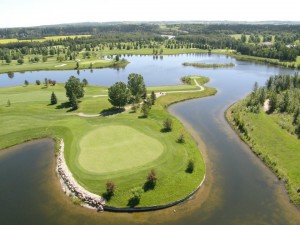 Course conditions at RiverBend were exceptional. The early morning started out with some damp conditions. For the most part, the rain stayed at bay and cloudy conditions prevailed until around mid day. The tournament took about 6.5 hours to play all 18 holes as the pace was leisurely. Carts were provided and each hole had judges in place to watch for hole-in-ones, closest to pin, furthest putt and mulligans. Mullies were able to be purchased pre-round for a price of $10/ea. Play
was easy with each hole marked off for a par 3 distance. Tee shots varied in the 150-185 yard range on each hole. Playing in groups of 8, each group was split into 2 teams of 4. Best ball rules where each person tee'd off and the shot closest to pin was used as the putting point for each of your team. Each team member then putts from the location of the best tee shot in an attempt to birdie the hole. The winning score at the end of the day was a 3 way tie at -10 under par. Our team finished at -3 under par and I thought we played well overall. So those other teams had some pretty solid players on them.
Following the round of golf, a silent auction, live auction, and steak dinner was enjoyed by all. It's always amazing to me to hear a Class 'A' auctioneer like Duane Daines on the mic. The tournament sponsors also presented a nice swag bag with items such as golf balls, head covers, bottled water and other asoted goodies. A nice touch indeed.
I want to thank the Canadian Paraplegic Association for the opportunity to play in this excellent tournament. A huge shout out to Doug Manderville specifically for your invite. Thanks to the volunteers as well who really are the glue that holds an event such as this tournament together. A job well done!
It was an honour to play and show my support for your organization. I look forward to next year.
To make a donation to the Canadian Paraplegic Association, please click this link.