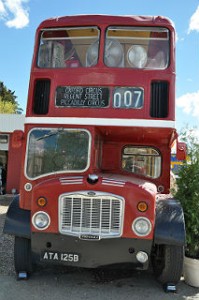 Red Deer has a new place to get a great cup of coffee in the downtown area. The new business venture called Cool Beans is located at 4740-50th Street (Ross Street), across the road from the Provincial Courthouse, the large red double-decker has been transformed from passenger carrier to an eclectic coffee lovers oasis.
The bus itself is old, having obviously been decommissioned as a people carrier some time ago. But that's not to say it is without charm. It is one of the few places in Red Deer that is not ordinary, in a good way. I have always said that Red Deer needs more identity and this is the type of thing I consider to be of unique character.
The outside is painted in stop sign red, then adorned with whimsical flower paintings, hippy-ish in style. The drink menu is attached to the side of the bus and the windows are marked with window paint telling of the daily food offerings. The business owners have built a wood patio a few inches off the ground, with an access ramp for use by people in wheelchairs and parents pushing strollers. There are few outdoor patio sets with tables, umbrellas and chairs, all of which are anchored by some potted Juniper trees to add a little greenery to the otherwise vivid reality that you are sitting just a few meters off of one of Red Deer's busiest streets.
Inside the bus, there is a small area near the cash register to stand and order. Ordering can also be done through a side window, but if the weather turns nasty, I can see myself wanting to get out of the elements and there is just enough room inside to stand and order, in such an instance. The aroma of the bus is very non-old-bus like. There is only the strong odor of fresh ground coffee beans and is very pleasant to take in, especially if you are as much of a coffee snob as I have become over the years. The top deck of the bus is under renovation and is not yet open to the public, though having a peek is permitted. Once renovations are completed, there will be a few closely positioned tables with bench seating for customers to use. The seating will be limited and the tables will be close together so it will be an intimate setting and should lead to some great conversations amongst those that stay for a while. Though I wouldn't want to sit up there if the sun is out, as the heat would quickly become unbearable, it would serve as a great place to sip a cup of coffee or have a bite to eat, if the weather is less than ideal for sitting outdoors.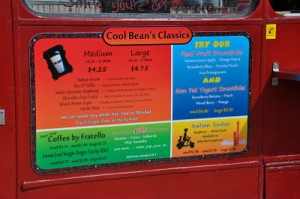 Menu wise, they focus on brewing fresh coffee one cup at a time. Mine was ordered and I watched through the window as they poured hot water through freshly ground beans by hand. The coffee then filters directly into the cup which frankly, is the best way to brew a coffee if you are trying to maximize the flavor. You simply cannot beat a coffee that is brewed this way. If you have never tasted coffee brewed like this before, you will be amazed at how intense the flavor is. My coffee had a few loose coffee grains floating in the cup, but that is both common and acceptable when brewing java in this fashion. I was asked if I wanted a medium or dark roast coffee and I chose a dark. Simply delicious! Also on the menu was loose leaf tea, Italian sodas, smoothies with or without yogurt, in a variety of  flavors.  Also available are kids' sizes.
For food, they offer panini sandwiches which I did not try personally, but I do intend to, some day in the near future. I would say if the food is anywhere near as good as the coffee, I'll be very happy indeed. There was also a selection of fresh baked cakes and other assorted goodies.
I must also comment on the fact that when I went there, I had 3 kids in tow with me and when we ordered, I payed with cash. It came to $16 for our 3 smoothies and 1 large coffee. When I was handed my coffee, I was also given a toonie. The person who took my order told me that he had charged me an extra $2 by mistake. I love honesty and this alone makes me hope that Red Deerians embrace this new place and make it successful.
Food trucks are a huge deal in some places. In fact, there are entire websites dedicated to locating and following the movements of them. Though this bus is in no way suited to be moving around the city, it may spur a surge of others to try it, as the trend seems to be quite strong and many successful restaurants have started by offering unique food and drink to an audience that has grown weary of the typical chain restaurants that dominate the landscapes in nearly every city across North America.
I for one, welcome the change of pace and appreciate the imperfect atmosphere. It's just right the way it is!